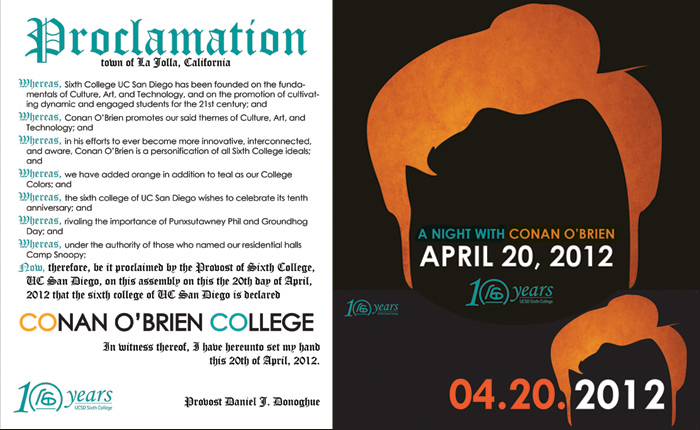 Conan O'Brien College, 2012
I was asked to do promotional work for Conan O'Brien's surprise visit to Sixth College UC San Diego. We posted "hints" of the special guest around campus during the weeks leading up to the event, and presented Mr. O'Brien with a "proclamation" renaming the college for that day, April 20, 2012 in perpetuity.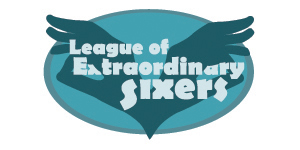 Sixth College, 2011-2012
My design for Sixth College UC San Diego's 10th anniversary logo was used online, on college merchandise, and in partnership with an event hosting Conan O'Brien on campus in April 2012. The League of Extrordinary Sixers was the theme for Sixth College's 2012 UnOlympics performance and 0 week student events.

UC San Diego Dancesport Show Team, 2011
The UC San Diego Show Team approached me to develop a shirt design that would encapsulate their 2010-2013 dance performance, "Indiana Jones."
Hulu In-house Applications, 2012
I designed the Humpback and Parley logos for in-house programs used by Hulu.
Balboa Park Centennial Lecture Series
Postcard designed and distributed for the Balboa Park Centennial Lecture Series finale with landscape architect Charles Birnbaum, an event hosted in conjunction by San Diego History Center and UC San Diego Extension.
Re-designing the Laws of Simplicity
As a project for Typography I at San Diego City College, I re-imagined the typesetting and visual hierarchy for the foreword, one chapter, and afterword of John Maeda's The Laws of Simplicity. I then printed, cropped, and assembled a paper prototype.

Telephonic is an art project collaboration between three dancers and one visual artist. It is updated weekly.
I hand-coded this in Dreamweaver, with the help of some Bootstrap, Google Fonts, and jQuery. The page is mobile-responsive.

I maintained the Sixth College UC San Diego website from 2010-2015.
My work on this site included taxonomy construction, creation of graphics, page creation, and day-to-day updates. The website operates on Hannon Hill CMS.